3 Benefits of Adding Smart Lighting Control to Your Home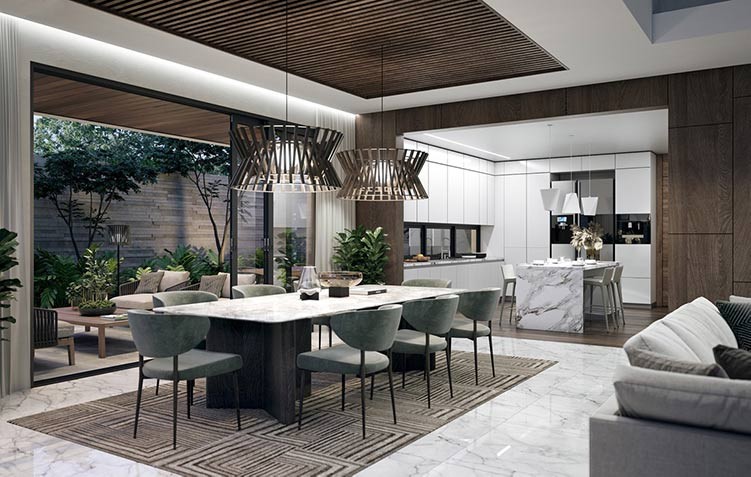 Learn how smart lighting will add convenience, energy savings, and security to your home.
When homeowners begin to consider ways to automate their everyday lives, many begin with lighting control. We use lights every day for various tasks and activities, but lighting is much more than a utility. Smart lighting control puts more time back into your day, improves energy efficiency, and increases home security—among many other benefits.
It's no wonder lighting control is a popular smart home addition. Keep reading to learn more about the powerful advantages of installing a Control4 smart lighting control system in your Scottsdale, AZ home.
SEE ALSO: Flip the Switch on Your Home's Lighting
Everyday Convenience
The most apparent benefit of lighting control is convenience. Easily adjust the lighting in one room or everywhere in your home using a tablet, an app on your smart phone, a stylish wall keypad, or have the lights adjust automatically based on schedules or sensors. You can even control lights by voice!
You can also program personalized lighting scenes that adjust several lights in your home at the touch of a button to set the mood for any occasion. For example, imagine that you are hosting a dinner party. Create a customized preset that, with a single press of a button, dims the downstairs overhead lights to 30%, illuminates accent lights to highlight artwork and key features of the home, and turns on the lights on the patio to welcome your guests.
Improved Energy-Efficiency
Smart lighting control increases the efficiency of your lighting by ensuring that they are only on when you need them to be. The less time that your lights are on, the lower your electricity bill will be. As you leave for work in the morning, turn off every light in your home with just the tap of a button. If your kids are the last ones out the door, open the Control4 app on your smartphone after you get to work to ensure they remembered to turn off the lights. The app awards anyone, anywhere the ability to turn their lights on or off when needed providing them with a peace of mind to go on about their day.
Utilize schedules and sensors to control your lighting, too. Program your lights to turn off automatically a few minutes after you leave for work. Employ motion sensors in rooms like bathrooms, pantries, and the garage to ensure lights only turn on when someone is occupying the space.
Upgrade to dimmable LED lightbulbs and fixtures, which use 75% less energy than incandescent lighting. LEDs not only have a lifespan that's 50 times longer than typical incandescent bulbs, but they also emit far less heat. LEDs paired with dimming and lighting automation is an excellent way to live greener.
Increased Security
Lighting control also improves the safety of your home. Stumbling to the bathroom in the dark is a tripping hazard. Turn your lights on from the comfort of your bed using voice control or a mobile app and illuminate the pathway to the bathroom.
Install exterior motion detectors that turn on lights when there is movement outside, alerting you to suspicious activity and deterring potential criminals to target your home. When you're on vacation, use Control4's Mockupancy feature, which turns your lights on and off throughout the day and evening to simulate regular activity inside the home and make passersby think someone is there.
Are you ready to bring the benefits of smart lighting to your home? Technology Design Associates is here to help you with all your smart technology needs. Give us a call at 541-948-5095 or fill out our online form to get in touch with us today. We would love to hear from you.