Create a Custom Home Theater with Immersive Sound and Images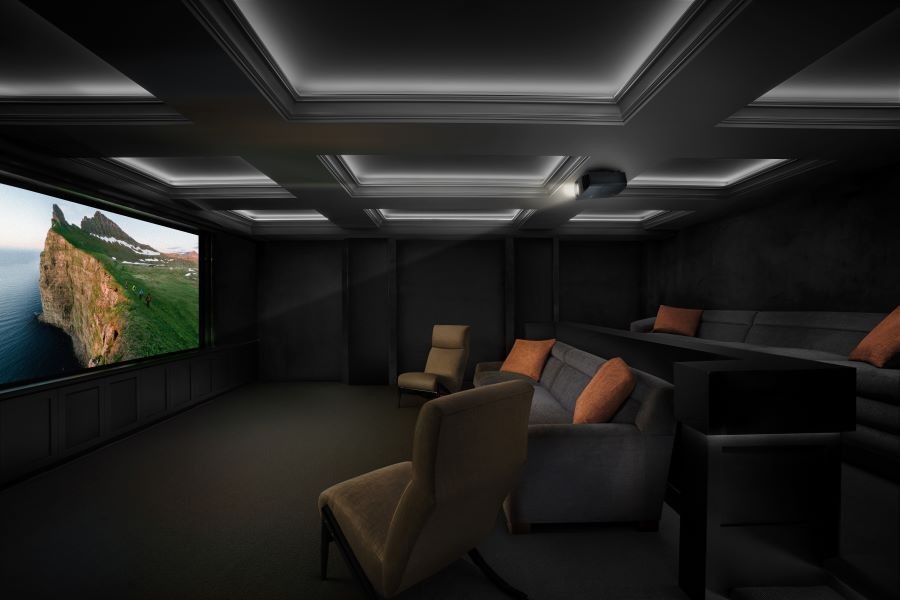 Choose Between Projectors or TVs and Architectural Speakers or Floorstanding Towers
There's nothing like experiencing a movie the way the director intended. Images pop from the screen in lifelike realism, and the sound engulfs you, taking you to the center of the storyline and making you forget your everyday cares and concerns.
While some movie theaters in Scottsdale, AZ, offer a high-quality cinematic experience, there's nothing that compares to your own custom home theater. With the help of state-of-the-art equipment, our certified technicians can create home theaters with sound and image quality that leaves you immersed in the film, sporting event, or video game.
Just as important, you'll be able to design the space as you envision it. Whether tiered, reclining seating found in the traditional movie cinemas, plush couches and loveseats for the relaxed crowd, or an array of seating options for those with an eclectic bent. We'll take a look at the room you'd like to reimagine and suggest some options based on the layout.
Then, let your imagination sore. We pride ourselves on exceeding our client's expectations every time, so don't hold back. You'll be amazed at the possibilities in today's high-tech world.
Let's look at just a few of the many options you'll consider when designing a custom home theater.
SEE ALSO: Consolidate Your Home's Smart Technology with a Control4 Dealer
Flat Screen TV or Projector
There was a time when projectors, despite their incredible ability to fill up a wall-sized screen, couldn't match the images on the latest OLED 4K and 8K TVs. We're happy to report that those times have changed.
Sony's latest 4K HDR projectors bring lifelike resolution, colors, contrast, and motion to screens as large as 200 inches. You get the same brilliant images filling up a wall, with quality and contrast that extends to the edges of the screen.
Of course, some of our clients appreciate the beauty and elegance of a simple TV screen which can still exceed 80-inches. Sony's OLED technology delivers pure blacks and vibrant colors with millions of self-illuminating pixels. Their LED-LCD TVs offer 100-inch screens.
Hidden Speakers or Bold and Branded
We partner with some of the best brands that lead the industry in high-fidelity architectural speakers. Origin Acoustics offers in-wall and in-ceiling speakers designed with custom home theaters in mind. You'll hear every nuance and every detail from speakers that pivot up to 30 degrees. This patented technology enables our technicians to direct the sound to the perfect angle for surround sound optimization.
Hidden speakers are a variation of in-wall speakers and are invisible speaker solutions. These solutions involve access to interior wall panels, with the speaker being completely hidden behind the wall. These are perfect for new builds or renovations when you want speakers to blend in with the overall design aesthetics of your theater room.
Of course, there are those homeowners that prefer bold and big high-fidelity tower speakers that make a statement. We've got you covered there too; whether watching the latest action film, enjoying a concert, or kicking back for the big game day, you'll feel the sounds, as well as hear them.
An Elegant Design or a Cozy Gathering
We recommend several online sites where our clients can view the many options available in home theater design. After all, you don't know the whole pallet of choices until you've seen them. For example, some seats come on riser platforms with power headrests and recliners. Others include LED lighted cupholders and a base rail so you can see where your drinks are and find your way to the kitchen or restroom in the middle of a show. Some even offer heat and massage integrations.
Then, there are the big comfy loveseats and overstuffed chairs or modern sectionals with futuristic furniture and mood lighting. If you haven't started browsing yet, you'll soon realize the choices seem endless.
Our experience in design and integration can help you sort through the many options to come up with a detailed plan. Once completed, you'll wonder how you ever lived without a home theater to call your own.
To learn more about custom home theater design, or to schedule a complimentary consultation, contact Technology Design Associates today.